The Jazz Curators series is dedicated to exploring the life, music, and history of the acclaimed jazz masters. The ensembles include musicians from the widely respected JAS Quintet, along with other premiere regional musicians, performing authentic takes on the master's music while also sharing stories about the featured artist's life and influence.
Find more information on upcoming performances and a lineup of all our shows with audio and video clips below, and book a show today!
---
Next Curators Performance
Lady Day – September 21, 2018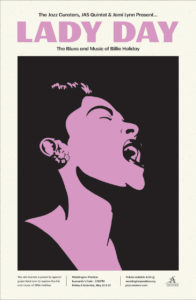 (poster design by Connor Burtis)
From the group that brought you Miles Smiles and Straight No Chaser comes an exploration of the life and music of Duke Ellington, America's Preimere Jazz Composer. Hosted by Katrina Lehr-McKinney, with a 9-piece ensemble of some of the region's best jazz performers.
Previously performed in Sioux Falls, we're excited to bring this show to Rapid City!
The Dahl Arts Center
713 7th Street
Rapid City, SD 57701
contact@thedahl.org
605.394.4101
Tickets available soon at The Dahl Website, and check Facebook for more information.
---