Next Curators Shows – Lady Day
May 12 & 13, 2017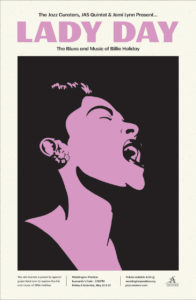 (poster design by the fantastic Connor Burtis)
For the fourth concert in the Jazz Curators series, the JAS Quintet is joined by special guest Jami Lynn to explore the life and music of Billie Holiday. Hosted by Katrina Lehr-McKinney, they will discuss the blues and play the music of the iconic Billie Holiday.
Leonardo's Cafe @ The Washington Pavilion
Doors @ 7pm, Music @ 7:30pm.
Two shows only with limited seating
Show One: Friday, May 12th
Show Two: Saturday, May 13th
Tickets available Monday, April 24th at the Pavilion Box Office, or at (605) 367-6000.
Check Facebook for more information, and see the poster above!